Kindergarten
Creating a lifelong love of learning for every child.
Practical English that Children can Enjoy with Kind and Pleasant Philippines Teachers!

---

The goal of CIEC kindergarten course
is to help the children have the interest and motivation to learn English. Filipino teachers are able to let the children enjoy speaking and experience different activities in English through fun, interesting and contents that match their level.

Time Schedule (Example)
Time
Group of 3~5 Years Old
Group of 6 Years Old
Remark
08:50 ~ 09:10 (20 Mins)
Meeting Time
09:10 ~ 09:40 (30 Mins)
P.E.M.A (Physical, Education, Music, Art)
09:40 ~ 10:10 (30 Mins)
Story Telling
10:10 ~ 10:30 (20 Mins)
Supervised Recess
Break
10:30 ~ 11:30 (60 Mins)
English / Science / Math
11:30 ~ 12:05 (35 Mins)
English / Science / Math
12:05 ~ 12:30 (25 Mins)
Indoor / Outdoor Games
12:30 ~ 13:30 (60 Mins)
Lunch Time
13:30 ~ 14:20 (50 Mins)
Siesta
Nap
14:25 ~ 15:15 (50 Mins)
1:1 Class (Alphabet & Phonics)
1:1 Class (Basic Reading & Writing)
15:20 ~ 16:10 (50 Mins)
1:1 Class (Action Project)
1:1 Class (Basic Listening & Speaking)
Bedding for the nap, and snacks should be prepared by the guardians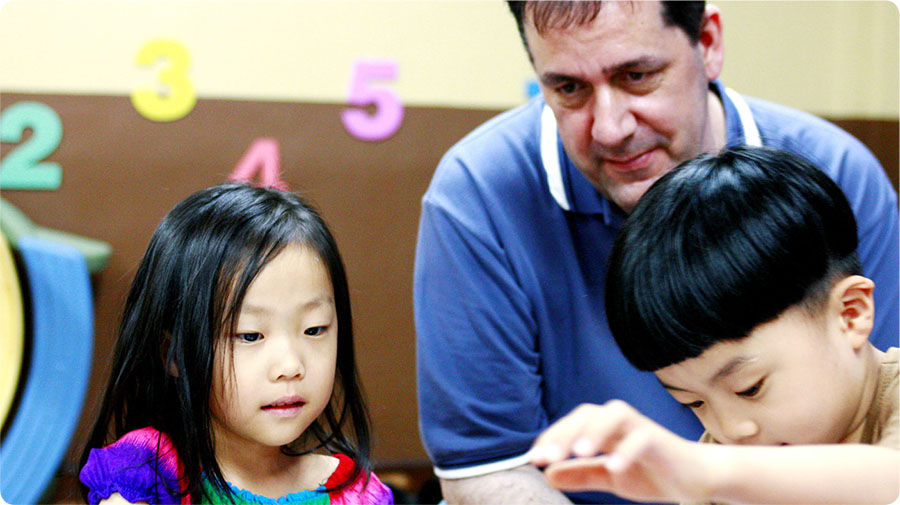 Story Telling
Taking the time to read with the teacher using the selected picture story book. Through this time, children can naturally understand and easily learn the story's contents, vocabulary and expression.

Phonics
It focuses in basic understanding of English during all classes, which naturally improves children's reading and spelling skills.

Science / Math
By learning simple numbers and weather expression in English, children are able to learn the basics of how to approach science and math with interest.

Create Activity
Through coloring, molding clay and other various activities, children are able to communicate with the teachers in English naturally.

Cultivation of Sociality
By participating in English classes, it can help them develop social skills, for example, by sharing ideas with others and waiting for their turn.

1:1 Class Basic Reading & Writing
Children can strengthen the basics of English through man to man classes to cultivate the four areas – listening, speaking, reading and writing which help them enter a more profound English world. (Group of 6 Years Old)

Field Trip
Putting the safety of the children first, the field trip is conducted twice a month, such as visiting the family park and the zoo. (it will be announced before the trip and the fee is excluded)
---